We have finally screen printed some Gringo t-shirts. At the moment we have red print on white and yellow shirts, in the following sizes; men's small, men's medium and women's medium. We'll have these on sale at ATP vs The Fans. More colours and sizes to come! The design and modelling is by Chris Baldwin.

Gringo has also started up a live music and screen printing night in Nottingham with our friends from Waste. It is called FLOODIT, and the launch night was a huge success. The second instalment will take place at The Art Organisation on Saturday 16th May, with live music from SOEZA, THE WAILINGEST CATS and SPIN SPIN THE DOGS and live screen print from a host of artists. You can bring your own garments to screen on to and we'll print some sweet Floodit and Gringo designs on them for only FIVE POUNDS! For more information go to waste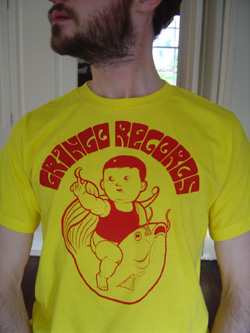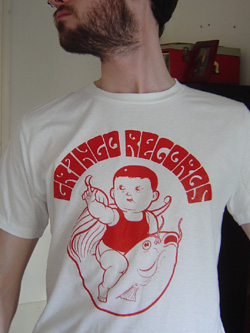 Miracle of miracles, Lords have been asked to play this year's ATP vs The Fans. They will be performing at 2.45pm on Saturday 9th May on the Reds stage. Do not go to the beach. Do have a very early drink and be prepared for the most rocking set of the weekend. With children and marriage happening, this really is the last Lords performance for the foreseeable future. Gringo will be camped in the merch area all weekend selling our wares (including Lords merch, new Gringo tees and the new That Fucking Tank album). Come say hello!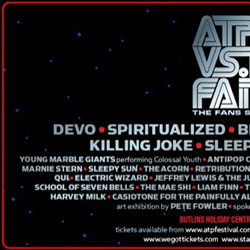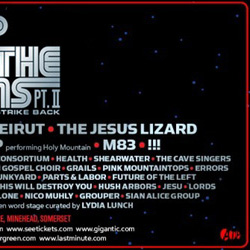 We've been attending the ATP festivals for 9 years and we've never had a band get asked to play. Through the wonders of public voting, BILGE PUMP and LORDS appear in the Top 100 for May's ATP vs Fans. With Lords perched at number 100 could they be about to receive an offer to play? And if any of you yet to cast the die are reading this, vote Bilge Pump!