BROKEN ARM are a very fine rock band from Yorkshire. Gringo has just released their first seven-inch, you can find it in good record shops. Speaking of which, Norman Records had this to say about it:

"For those of you unfamiliar with the band, they are a four piece from Leeds who's members have previously played with the likes of Sailors, Woman, Like A Kind Of Matador and The Static Waves. Their music is kinda scratchy and sharp like all good garage rock acts but they've got the muscle of a hardcore band hence they exist somewhere between these two worlds. Part early Rock From The Crypt, part Black Flag, if you know what I'm saying. 'Negative' features three aggressive, pedal-to-the-metal (haven't used this phrase in a review before - hope you like it), party numbers on the A-side, all of which are awesome. Flip it over and you get a brooding beast of a number entitled 'House Rules' that touches on 'My War' era Flag whilst also flirting with the possibility of psychedelia. Recorded by Matt J (of the soon-to-better-known psychedelic rock band Hookworms) 'Negative' certainly sounds a little rough and rugged but that all adds to the charm of these recordings and very much suits the bands aesthetic. Amazing 7". Comes highly recommended by all the lads at Normans... except the lame lads off course."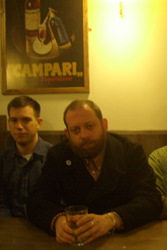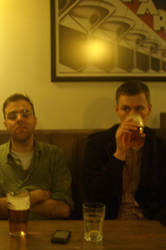 Gringo is extremely proud to be releasing brand spanking new recordings by long time drinking partners Part Chimp. The tracks were captured for posterity at Dropout Studios and have been committed to wax in time for their autumn 2010 tour of European cities. Features artwork designed by Chris Summerlin and screen-printed by Matt Gringo on to quality card sleeves. Copies will go swiftly, so hot foot it to the Gringo shop sharpish.

Gringo is proud to be assisting in the release of the debut album from our good friends OX SCAPULA. If you haven't heard them yet, they channel loud, bass-heavy grooves in the spirit of Unwound / Hoover. Recorded at the trusty DubRek studio in Derby, "Hands Out" is a split release between Gringo, Art For Blind, Sea Owl and We Like Danger. Only available on LP but you get a free download voucher. Have a listen to the entire album at the OX SCAPULA BANDCAMP PAGE.

The Ox are playing gigs around the UK in the next week and will be off on a European jaunt in September. Gringo may possibly be at the wheel.