We now have copies of the "Health & Social Care" repress on lovely green vinyl, limited to 300 copies. Order a copy now!

We've also had some returns of some previously sold out titles which you might want to snap up.

BILGE PUMP "We Love You" CD
THE VAN PELT "Tramonto - Live in Ferrara 12.08.2014" LP
SAUNA YOUTH "Dreamlands" LP (black vinyl)
VISION FORTUNE "Mas Fiestas Con El Grupo" LP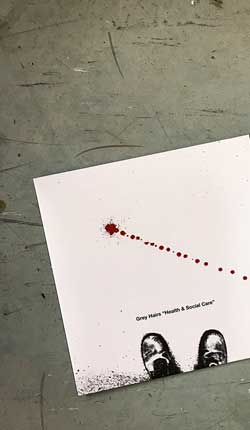 WHERE DOES THE TIME COME FROM
Our latest release is the third Sweet Williams album, "Where Does The Time Come From". It is available in
these fine UK record shops
on Friday 20th September. Support your local shop!
If you are not familiar with Sweet Williams it is the current outlet of the prodigiously talented former Charlottefield chap Thomas House
.
Sweet Williams has more cyclical chime and post-punk rumble, taking in the strange majesty of Lungfish and dread of The For Carnation. Our favourite music site, The Quietus,
gave the album a glowing review
and said it was "something close to real brilliance".
You can of course
order direct from Gringo on vinyl, CD or download now
and the album is streaming in full over at
Bandcamp
now. You can also buy or stream the album from your
favourite digital stores
.
---
RIDE A GOLD SNAIL VIDEO


The first single from the album, 'Ride A Gold Snail', is a rumbling post-rock juggernaut that sets a backwards drum beat to a filthy, holding pattern bassline, with guitar amps on the verge of burning out and elliptical, elusive lyrics.




---
GREY HAIRS REPRESS
We're all sold out of red vinyl copies of the new Grey Hairs album "Health & Social Care", so we are getting it repressed on lovely green vinyl, limited to 300 copies. We're expecting stock in early October so
pre-order a copy now!
"We are really surprised and grateful for all the kind words for the album and chuffed to bits that it's getting a re-press. We made you a
Spotify playlist
to say thanks. As a band we are all obsessive record buyers and music discoverers. Somehow this rarely spills over directly into the band itself though. Or to put it another way - we still don't really know each other's tastes. Or maybe we just don't talk to each other anymore, maaaannnn? To illustrate this, there's a Daniel Johnston song that's quoted directly in the lyrics to our song "Tory Nurse" and none of the rest of us noticed, despite all being fans.
With that in mind we put this together out of things that subconsciously influenced each of us on the album. There's hours of music there from the gothic country of Bob Fryfogle and Sanford Clark to the undeniable force that is Warthog. There's some old favourites on there like Spoon and Jon Spencer to new (and sometimes accidental) discoveries like Lowest Creature. Enjoy it. Put it on while you cook or something. Share it around and play loud - Grey Hairs"



HEALTH & SOCIAL CARE
Release day is here! The 3rd Grey Hairs album,
'Health & Social Care'
, is available in
these fine UK record shops
as of today. Support your local shop! The album will be available in USofA record shops on 30th August courtesy of Red Eye Distribution. Ask your shop to order in from them!
Bull Moose
,
Waterloo Records
and
Electric Fetus
have it available for pre-order.
You can of course
order direct from Gringo on red vinyl, CD or download now
. Vinyl stock is already running low!
You can also pre-order/pre-add the album from your
favourite digital store now!
:
Here are some recent reviews:
"yet another album that in a sane world would effortlessly feature on all the end-of-year best-of lists"
9/10
God is in the TV
"
restless with punk rock attack but equally smeared down amongst riffs that have much in common with pre-Nevermind first wave grunge's dirty noise attitude." The Arts Desk
"'Health & Social Care' is a mood-lifting good time of a great big rock record"
Birthday Cake for Breakfast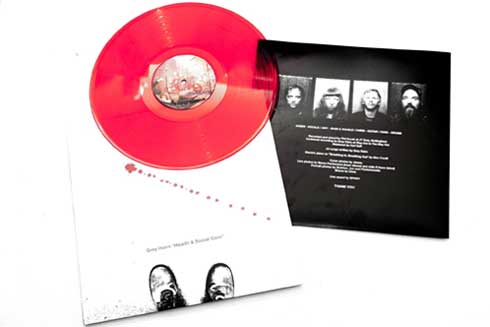 ---
P*SS TRANSGRESSOR VIDEO


Grey Hairs have shared a new video for "P*ss Transgressor" which they say is a song about "seeing yourself in failing men. Standing next to each other in pub toilets dispelling your body waste together. It's a symbiotic moment that is rarely comfortable. It's about the fear of becoming the other. The lines get blurred as we remember our younger selves and times when pop culture was less prescient and that the streams should never cross. The streams have crossed and what now?".

Indeed.