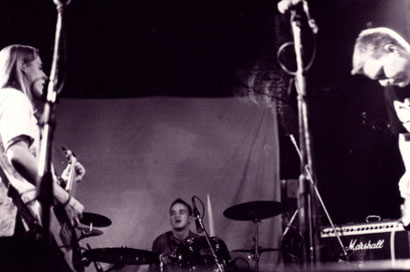 Biography

Formed in the Black Country after the break up of their school band Fused, San Lorenzo aimed to create a varied and emotive sound from a basic three-piece set up. Owen's lyrics drew on suburban myths and dreams while the band's music was able to wrap these words in fragile melodies or noisy maelstroms. Their first release, the 7" Life Without Mountains/Polaroid, garnered praise from the weekly music press with its dynamic intensity and melodic boy/girl harmonies. Comparisons were made to Codeine, Slint and Fugazi but these never quite hit the mark. In 2000 San Lorenzo toured with Idlewild to promote their debut album Nothing New Ever Works which was supported strongly by John Peel and Steve Lamacq's BBC radio shows.
After recording some of their best material San Lorenzo decided to split in 2001. An excellent compilation of singles and unreleased tracks entitled The Sea is a Map was released by Bearos Records the same year. Remarkable new songs such as Mirror Witch and We Got Mysticism showed that the band were harnessing the invention and power of their live performances in the studio.
In 2004 the band reconvened to play several shows but no studio recordings were produced.
Owen Tromans continues to make solo records and tour with his group The Elders.