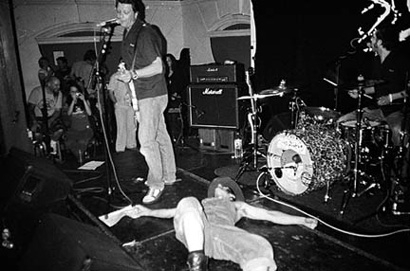 Biography

Formed in 1995 from the ashes of the Harpoons, unfeasibly Clambake managed to get out of the practice room and even play a few gigs. By the time they called it quits in 2006 they had played approx 130 gigs, had some stuff released, been on the radio, played with their favourite bands (The Jon Spencer Blues Explosion, Mr Airplane Man, The Black Keys, Bob Log III, Jawbone, Black Eyed Snakes, Seasick Steve, Wilko Johnson), had songs on a soundtrack to the gangster film 20,000 Little Reasons and met some lovely people.
Description
Stewed down rock'n'roll at its most primitive played by two punk/blues/garage rockers featuring 4 stringed guitar, minimal drum kit and shouting. Subject matter included getting divorced, boozing, wanting to be the next James Bond, crashing your car and wanting to make the world a better place. During their time together Clambake sonically changed from their earlier 50's inspirations to a two man Motorhead, or the Ramones with a slide guitar. Whatever way you sliced it, it was just good time Saturday night rock'n'roll - not designed to change peoples lives, but intended to make people jump about, drink, shout and large it up.
The Rumours
While Clambake were gigging a couple of other two piece bands appeared on the horizon. Needless to say they are household names now and play in huge arenas and have loads of cash. Whilst Clambake could be bitter about this experience they played their stuff for the glory of the moment and the good night out. Also it is important to remember that one of these household names was too scared to let Clambake support them and whilst Andy and Nick never had celebrity girlfriends I bet that these other bands never got invited to any spit roasts either....
The Best Bits, in Andy's own words
All of the nice people we met and are still mates with.
All of the gigs (even the bad ones)
Live Radio Session - thanks to Joe Cushley at Resonance FM
Gringo Records - for getting stuff released and hearing it on the radio - Thanks Matt.
Night with No Name -Thanks Anton
Not the same old blues cr@p - Thanks Rupert and Jim
We didn't have to make a career out of it - it remained fun and not a day job.
Getting a bad review in Kerrang