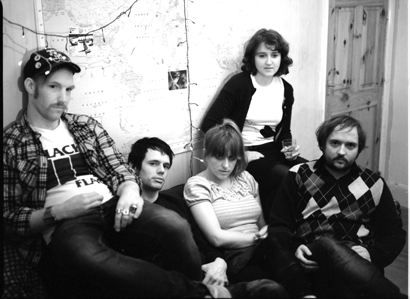 Biography

Fists have been writing, fighting and exciting in various bedrooms and rehearsal spaces across Nottingham since 2005.
Their noisy, joyful and ferociously energetic gigs display the Fists sound in all its crisp, fresh, beautifully bruised glory. Sweet vocal harmonies, rich raw power; original, electrifying indie rock.
Their first single Cockatoo (Hello Thor Records) was handpicked to appear on Rough Trade's Counter Culture compilation alongside Emmy The Great, The XX and Fever Ray, and was named as one of Artrocker's top 100 tunes of 2009. The band followed this up with the Olympic Hits EP, which received strong reviews across the board, including coverage from the likes of NME, 6Music and Radio 1.
Then in February 2011 Fists released Ascending b/w Stag (on limited edition green vinyl). Recorded with producer Rory Attwell (S.C.U.M, Comanechi, Fair Ohs, Male Bonding, Veronica Falls) at Pallet Recording Studio in Dalston, the single perfectly exemplifies Fists' DIY sound as it flits from lilting lo-fi pop to stomping yet experimental garage rock.
In 2012 Fists were invited by Obits (Sub Pop) to join them on their sold out East Coast US tour.
Fists' music is influenced by everything from mid-50s skiffle and rockabilly, through lo-fi pioneers like Daniel Johnston and Simon Joyner, to proto-punks the Monks. Throw in the likes of Link Wray, Yo La Tengo, Les Savy Fav, The Breeders, Jonathan Richman & The Modern Lovers, The Fall, Thee Oh Sees, The Monks and Scott Walker and you might begin to find yourself nearing a place where Fists are coming from. It is DIY, lo-fi; both wildly experimental and toe-tappingly pop.
On 8 July 2013 Fists released their debut album - Phantasm - through Hello Thor Records and Gringo Records. Phantasm is a robust set of 11 songs bristling with tension and bursting with invention and heart.
"Like the best garage rock bands, Fists have the attitude and the tunes" Drowned in Sound
"Heartfelt, honest and wholly irresistible" God Is In The TV zine
"It may be long overdue but thankfully Phantasm is more than worth the wait" Gold Flake Paint
"It's all over in just thirty five minutes but it's the sort of album which will have you jabbing at the 'back' button on your stereo throughout" Pocket Jury
"a rolling, country-inspired piece of jingle jangle loveliness" Bitter Fingers
"...a pleasingly disorientated collection of Cowboy Junkies style intimacy, pounding mystery-rock and country music spiked with bad acid" 4/5 Artrocker Magazine
"Punky rockabilly lo-fi fun" NME
"Tough, fragile, crazed, and excellent" A New Band A Day
"British Indie as it should be: emotive and rough around the edges" Trebuchet Magazine
"a delightfully tumbledown fusion of hillbilly twang and soft-psych pop harmony" The Stool Pigeon