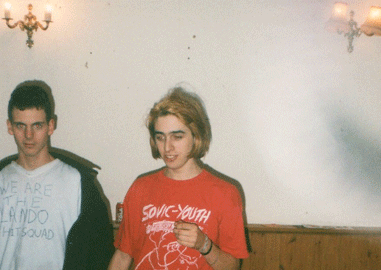 Biography

Lando fell together at the end of school. They rehearsed in the middle of nowhere in a broken home. They walked there through dirty snow. A metaphor.
The personnel was Joe Russo, Tom Coogan and James Kincott. They were alienated from the cheap stock of local culture. Fuelled by utter contempt, their music was loud, grinding, fluent.
Poetically, the original self-recorded tapes were lost. Jason Graham, Gringo boss, remembers the songs being "out of context...a consistent motor of anger and madness...".
Many now claim to have been at their one live show. In reality the audience was small and disgusted.
Deaf and paranoid, they split in acrimony.
Lando reformed and adopted drummist and bassman. Direct and urgent, they traded off tunes against proud ugliness. Lando were recorded by Coogan for GRINGO's first release. The mint sharpness of the recordings was sadly marred by lousy mastering.
The rhythm section left to join HIRAMEKA HI-FI. LANDO died. Russo now plays in a band with Coogan, working title "Dead Kid". Kincott bakes dough. They are all friends.