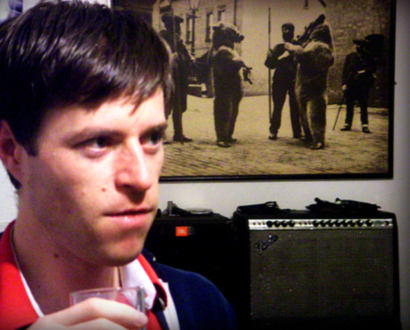 FREQUENTLY ASKED QUESTIONS
How do i book one of your bands?

Currently Gringo bands book their own tours and shows. If you are unsure how to get hold of the band, please send me an email info@gringorecords.com and I will forward it to the right person. If you are a new promoter in town and you want all the Gringo bands to know about this, I can forward your details on to all our bands, so please email.
IS THERE ANY CHANCE OF WORKING FOR GRINGO?
Gringo is a one man operation run out of a cramped bedroom outside of my day job. I do not draw any money from the label so I cannot hope to employ anyone else. However if you live locally and would like to help Gringo out for nothing but a few records and a pat on the back, I would love to hear from you!
WHAT IS YOUR DEMO TAPE POLICY?
Please send all demos to the Gringo address. Before sending a demo please be aware of the sort of artists I like to work with. Take a minute to have a listen! I am not currently looking to release albums by overseas artists. Whilst I like to appear cool and describe my music taste as eclectic I work with artists who have a certain DIY spirit. Gringo bands tend to book their own shows and get involved with their own artwork/recording. Please do not send mp3s or links to your website. It can take me a while to listen to demos, but I do try and respond to every one. Just be aware that I am far more likely to release a record by artists who I have seen play live and who laugh at my jokes!
WILL YOU SEND ME PROMOS FOR MY RADIO SHOW/ZINE/ETC.?
Yes I will do my best. If you would like to get hold of a Gringo release for your zine / radio show please send a copy of your zine / link to your site / playlist from your show. I'm going to try and do more electronic promos to save money and resources so please let me know in advance if you are wildly opposed to receiving a promo code to download a release.
CAN I USE YOUR SONGS ON MY PODCAST?
Sure, you are free to use any of the mp3s on offer on the Gringo website.
CAN I USE A GRINGO BAND'S SONG IN MY FILM?
Send as much info about your film as you possibly can to Gringo and I will forward it to the band. If it stars Kurt Russell then I would really like to meet him.
WHAT IS DAMN YOU!?
Damn You! was a paper fanzine started by Tom Coogan (Hirameka Hi-Fi) and myself in 1996. For the final issue we were joined by Chris Summerlin (Renolds/Lords). We only made four issues but interviewed a heap of bands. Now Damn You! is the banner under which a group of us promote gigs in Nottingham. 2009 should see us promoting our 200th night.
HOW DO I RELEASE A RECORD?
www.jonsonfamily.com/diy.aspx
www.bearos.freeserve.co.uk/resources
www.fat-cat.co.uk/DIY/