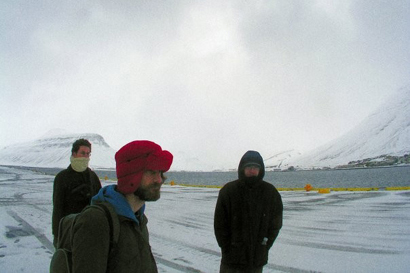 Biography

I'm Being Good are a 3-piece from Brighton, formed in 1993, they have released numerous albums, singles and tracks on compilations. They have recorded records for such labels as Slampt!, Fisheye, Che, Destroy All Music, Lissy's, Paroxysm (USA), Woozy (Australia), EE:Lettro (Italy), Area 51 (London), Kill Rockstars (USA), Gringo and their own INFINITE CHUG label.
The band have toured extensively in both the UK and Europe including support tours with America's STORMANDSTRESS and TRUMANS WATER and OXES, and Canada's NORTH OF AMERICA.
Both live and on record the band are becoming renowned for their electrifying live shows and for playing themselves and their equipment into the ground.
I'm Being Good have enjoyed extensive radio coverage in the US, Australia, Japan, Europe, and closer to home, the John Peel show, for which they recorded a seesion which Peel himself referred to as "one of the sessions of the year"
Being a part of the tangled web that is the Brighton underground, I'm Being Good share band members with 100
Pets, Pine Forest, Baron Samedi, Runt, and Quiet Islander. Singer/Guitarist Andrew Clare has also worked alongside Sonic Youth's Thurston Moore and improv guitar legend Derek Bailey on the Thirteen Ghosts project.
Sub Plot CD
At present, Brighton's I'm Being Good are retreading the steps of the late, lamented American band Polvo, slinging deleriously woozy lead guitars over tightly wound, angular art-rock foundations. At a time when most British bands disport themselves in worthless second-hand signifiers, there are worse precedents to build on, and I'm Being Good are to be admired for attempting anything interesting amid a culture of Toploader NME cover stories. He Has Unborn Eyes on Long Tinsel Stalks is the highlight here, heavier than the most determined nu-metal band, yet evidencing an intelligent, focused intent.
~ Stewart Lee [the Sunday Times, 27.5.01]