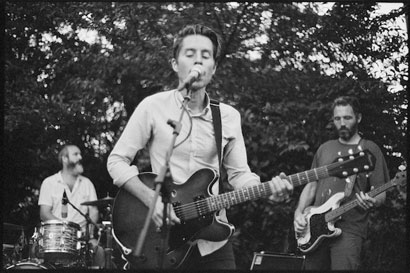 Biography

The Van Pelt, led by songwriter Chris Leo (The Lapse), with drummer Neil O'Brien (Butterflies of Love), and a rotating cast, including bassist Toko Yasuda (Blonde Redhead/Enon/St Vincent), released their debut full-length, Stealing From Our Favorite Thieves, in 1996, followed by Sultans of Sentiment, the following year, on the Gern Blandsten (Ted Leo, Liars, Rye Coalition, Weston, Chisel, Canyon, etc.) label.
Post-Punk? Indie Rock? Post-Hardcore? The Van Pelt walked between all these worlds. Spoken/sung vocals, anthemic pop hooks, fiery guitars and a tightly wound rhythm section made them stand outs of the DIY basement scene they emerged from. The 1990's indie heroes have had a lasting power far greater than so many of the other once bigger bands of that era. The sort of interest that has neither waxed nor waned over the decades since they disbanded, yet just mysteriously continues on despite their discography being out of print since the end of the last millennium.
So what is it that sets them apart? Too soft to have ran with the AmRep or Touch & Go crowds, not hip enough to have made sense on Matador or Merge, earnest yet not histrionic enough to make it onto the "best emo bands" lists, not weird enough to be on bills with Arto Lindsay and Thurston Moore in a sense, their outsider status comes not from the wings, but from the dead center eye of the storm. The '90s were happening all around them, they were witnesses thereof, yet they emerged transcendent of it all.
While only active for a few years, The Van Pelt have grown into something of a cult favorite. In that short period of time their music evolved considerably, from the charged, proselytizing punk of Stealing, to the quiet, creeping, intensity of Sultans. While the band called it quits at the peak of their success, The Van Pelt have continued to grow in popularity in underground circles.